Year 3 Latest News 2018
Class trip to Cadbury World 22nd October 2018
Year 3 Class
2018-19
Miss O'Sullivan welcomes Year 3
In Year 3 we prepare to make the Sacraments of Reconciliation and Holy Communion. We think about the different choices we make and we reflect on our own relationship with God. We understand how important it is to be close to God and we try very hard to follow in Jesus' footsteps, learning from his good example. We try to remember and live by these commandments: 'Love the Lord your God' and 'Love your neighbour as yourself'. We feel that if we are following these two commandments, we will be on the right path.
Spring: 2019
EXTREME EARTH!
In Topic, we have been learning all about volcanoes and earthquakes in our Extreme Earth topic. We were really interested to find out that our inspirational person David A. Johnston actually died in a volcanic eruption trying to help others. We were amazed to find out about the city that was hidden under 5 metres of ash and lava for thousands of years because of an eruption of the volcano Mount Vesuvius in 79 A.D. We have been learning how volcanoes are formed and debating whether people should live near volcanoes.
In Literacy, this half term we have focused on poetry. We explored the poem used in the Winter 2014 Olympic Games called 'Dreadful Menace'. We focused on personification and thought about how we could use this feature of poetry in our own poems about volcanoes.
In Maths, we have been focusing on length and perimeter. We had added and subtracted lengths and calculated perimeter. We have also been working on our Timetable challenge; to complete a timetable grid in 5 minutes. We are all getting extremely close to this target however no one has achieved it yet!
Please click on the link below to see this term's study plans
This half term Year 3 are learning all about the Stone Age. As a stunning start to our topic we participated in a Stone Age Worship for the day. We thought about how long the Stone Age lasted for and the order of the different periods within the Stone Age. After that we acted out inventions and dangers of the Stone Age. After lunch, we all took part in a fashion show; we dressed up in Stone Age clothes and our friends described what we were wearing.
For the rest of our topic, we are going to be learning about the lifestyle of people from the Stone Age. We will explore what they ate, where they lived and what type of evidence there is that this period of time existed.
In Literacy, we are reading Stone Age Boy and How to Wash a Woolly Mammoth. We will be writing our own versions of the Stone Age Boy and learning how to write instructions.
Year 3 are reading:
Autumn: A Golden Ticket
European Languages Day
26th September 2018
Fashion designer Coco Chanel, born August 19, 1883, in Saumur, France, is famous for her timeless designs, trademark suits and little black dresses. Chanel was raised in an orphanage and taught to sew. She had a brief career as a singer before opening her first clothes shop in 1910. In the 1920s, she launched her first perfume and eventually introduced the Chanel suit and the little black dress, with an emphasis on making clothes that were more comfortable.
Year 3, created their own fashion accessories and walked them down the 'cat-walk'.
Reading for Pleasure
We are also having great fun reading about the 'Stone Age'.
Literacy
Year 3 had great fun reading and discussing the speech by Scar.
Mufasa's death was a terrible tragedy; but to lose Simba, who had barely begun to live... For me it is a deep personal loss. So it is with a heavy heart that I assume the throne. Yet, out of the ashes of this tragedy, we shall rise to greet the dawning of a new era... in which lion and hyena come together, in a great and glorious future!
How does your garden grow?
Today we talked about the history of the potato. We used the potato time line to understand how the potato arrived in England. We talked about the Incas and Sir Walter Raleigh.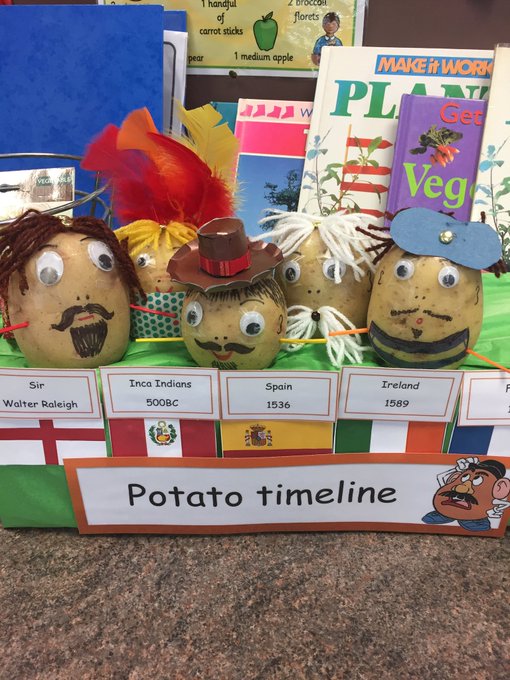 World Book Day - 2nd March 2017
What a great day! We were in inspired by the events of 'World Book Day' and couldn't wait to read 'Blob' by David Walliams.
Year 3 have been sorting objects into 'light source' and 'not a light source'. Some of them were easy, but others were more tricky. Is the moon a light source?
Year 3 love looking after the hens. We go out and collect their eggs, replace their water and make sure they are happy.
Year 3 had a wonderful time rehearsing and performing their Diwali assembly for the whole school. They learnt all about the origins of the celebration and the story of Rama and Sita.
Year 3 had another fabulous day out to the Hindu Temple in Oldbury. Miss Plant was so proud of their behaviour and respectfulness within the Temple.
Look at our fantastic 'Chocolate Attack' homework.
We have had a fantastic start to the school year with a school trip to Cadbury World.
We have created some fabulous art work inspired by the artist Alberto Giacometti.
Summer Term 2016
A Right Royal Knees Up
On the 12th April, Year 3 visited Tesco Supermarket in Quinton as part of their Topic. They had a wonderful morning looking at foods they could purchase for the Queen's tea party, tasting foods, and using the tills. Some of the public commented on the excellent behaviour of the children whilst they were there. Well done, Year 3, you are a credit to the school.
Spring Term 2016
Growing Things
Science week in Year 3